MBA Application for AY 2023-2024 is now open!
Please check THIS LINK or scan the QR code for more details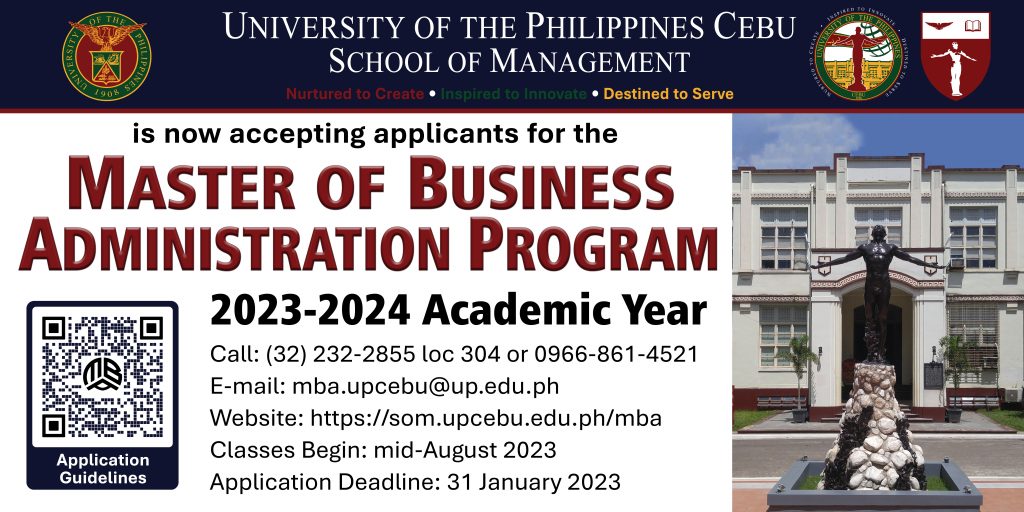 ---
MBA application until 31 January 2023
For more information email us at [email protected] or send a text message at 0966-861-4521
---
Attention: Incoming MBA Freshmen
08 July 2020

Please accomplish this Personal Data Sheet on this link ASAP.

---
Query: Waiver of Prerequisite for 1st Sem 2020-2021
28 June 2020

Based on the signed Waiver of Prerequisites for those who took up MGT 181 last 2nd Sem 2019-2020, MGT 181 will not be credited until the student has retaken MATH 100 and passed it.

However, due to the pandemic situation, UP System has issued this detail from Implementing Guidelines for 2nd Semester AY 2019-2020.

This means that the affected students can enroll in MGT 187 for the 1st Semester 2020-2021 WITHOUT a waiver. We cannot tackle yet on a similar query for MGT 188 as this will be offered on the 2nd Semester and we do not know yet if there will be policy changes during that period.

If you have more questions, please do not hesitate to contact the OCS ([email protected] ).