On 21 February 2019, five University of the Philippines Cebu (UPC) School of Management (SoM) graduating students with their coach went to Manila to participate in the 11th Investment Research Challenge at the Philippine Stock Exchange Auditorium, Ortigas, which was organized by CFA Institute. The Research Challenge event is "an annual global competition that provides university students with hands-on mentoring and intensive training in financial analysis and professional ethics."
A total of eight schools competed nationwide, and the UPC was one of the four universities who advanced to the final round. Management students Alexis Carlos, Genevieve Espaltero, Francis May Manota, Kieran Shane Ordona and Jezzi Kaye Ruiz, made up Team UP Cebu. Prof. Stevenson Yu guided the students as they studied and analyzed the case, while the other SoM faculty and lecturer served as panel members as they assisted the students in their oral presentation.
The organizers covered the airfare and lodging of the students and their coach, while SoM helped with the other incidental costs. UP Cebu's participants were able to gain 4th place overall.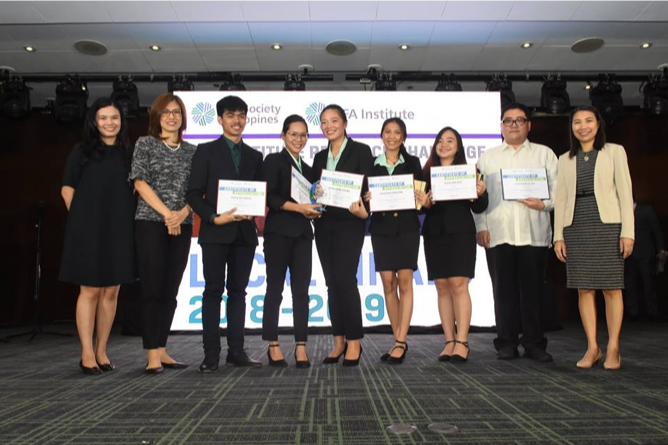 (Left to right) D&L Industries Investors Relation Officer Ms. Crissa Bondad, COL Financial Head of Research Ms. April Lee Tan, UPC Team, Alexis, Francis May, Kieran, Genevieve, Jezzie, UPC Coach Prof. Stevenson Yu, and CFA Philippines Society President Ms. Cristina Arceo.
Source: https://www.cfainstitute.org/societies/challenge
Students' contribution